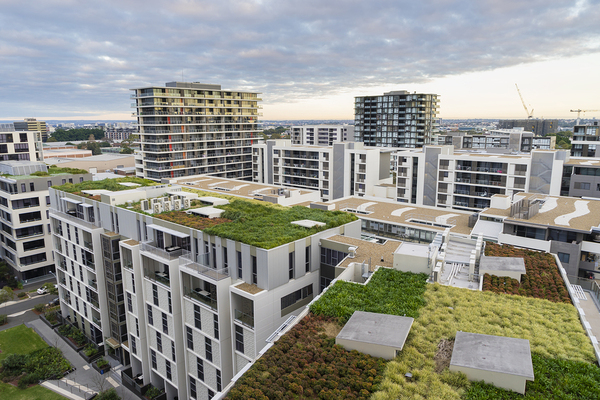 When is a roof much more than a way to keep out the rain? When it's a green roof. The layer of vegetation that covers the top of a building keeps homes and commercial spaces cooler and help lower the carbon footprint. But that's just the beginning. They also help save money, reduce HVAC load and offer a host of other benefits.
If ecologically sound building practices are to grow, more architects need a strong foothold in every aspect of green design. With PDH Academy's AIA-approved course on green roofs, you'll have a great start.
Why Green Roofs Matter
In urban areas, green roofs help reduce the heat island effect. The lack of vegetation combined with the built-up environment, both of which are earmarks of cities, can lead to temperatures several degrees higher than the surrounding areas, says the EPA.
When the temperatures are higher, people rely more heavily on air conditioning. That creates a higher demand for electricity, additional pollution from electricity production and poorer air quality. Overheated cities also contribute to heat-related illnesses and a higher mortality rate, says the EPA.
When a green roof is incorporated into building design, temperatures, air quality and quality of life improve. They help save money, too, as city dwellers need less air conditioning. The more buildings that use green roofs, the stronger the benefits for the entire urban area.
What PDH Academy's Green Roof Course Offers
Our course on green roofs is crafted around the U.S. Department of Energy document, Green Roofs (DOE/EE-0298). It covers numerous aspects and benefits of green roofing design and implementation and gives 3 learning units upon completion.
You'll learn about the two different types of green roofs commonly in use today, which are extensive and intensive. Extensive green roofing is generally made of shallow soil, low spreading plants is low maintenance and requires little water. Intensive green roofing has a deeper layer of soil, includes a wide range of plants and trees, and require a lot more upkeep.
Which option is better? You'll have to take the course to find out. You'll also learn how a green roof can help solve water supply problems that individual buildings and whole cities share.
What You Can Expect to Master
Once you've completed the PDH Academy Green Roofs course, you'll have a much better understanding of the fundamentals of green roofs and how to put that knowledge to work in your practice.
You'll understand:
How green roofs are used in urban areas
How to project and calculate energy savings
Which different styles of green roofs are in use
Estimating the total savings benefit of green roof installation
This continuing education course is in compliance with the AIA and state requirements. Once complete, we'll submit your earned hours to the AIA on your behalf. Take the course online, which is the convenient approach, or opt for a correspondence-style course.
Green roofs are solving the heat island issue that urban areas face, and they're helping drive down air conditioning needs along with the related operation costs. Lower air pollution is another benefit. They can even help minimize water runoff and create a new source for clean water.
Lots of benefits come from one green roof system, which is why our PDH Academy course is so popular. Check out this and other courses for architects today.