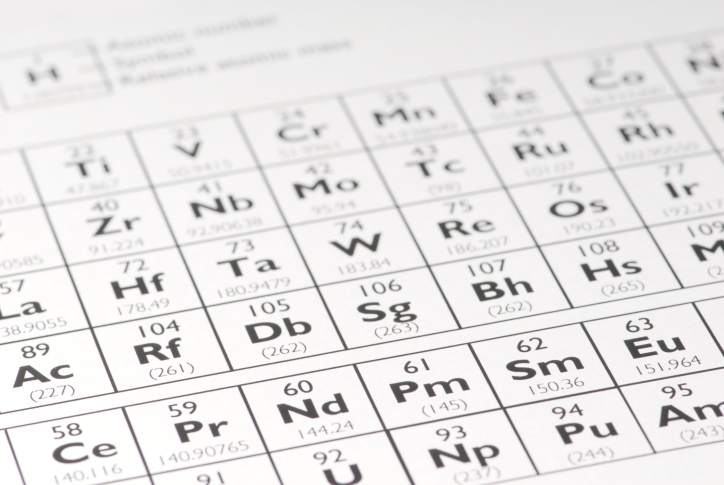 "The world criticizes the exorbitant tuition fees for a college education in the US. However, this price tag, at the end of the day, is worth every penny if YOU, the student make the most out of your education." Chemical engineer Laura-Ann Chin
If you were to turn on the television today, browse through your news feed, or scan the comments section of almost any political article online, it can easily begin to feel like society has taken a turn for the worst. Where did the feel good stories go? What's left to inspire?
And then you come across Laura-Ann Chin, someone who has embodied the American Dream, vigorously pursued her life's passion, and made the most of what can easily be squandered. What's best is that she's willing to share her experiences in a way that nurtures future generations to do the same, rather than simply resigning to her own successes.
When a person demonstrates that brand of determination and results, it deserves to be highlighted. We recently caught up with Laura-Ann Chin to further discuss life and education.
Upon graduation, you were tempted to take a job with Apple, but inevitably turned it down because it wasn't an engineering job. Apple is such a high profile company. Can you describe your decision making process at that time?
Apple is a highly dynamic company that embodies every aspect of technological advancement, simplicity, creativity and drive. I have been a longtime supporter and fan of Apple products and have been a huge advocate for every gadget the company has to offer. However, this position at Apple was for their Apple Store Leadership Development Program and did not require any engineering skills. Apple chose to bring me onto their company based on my cross-functional/leadership skills; but at the end of the day, I stuck true to my passion and first love, which is chemical engineering.
I undergo and solve engineering challenges on a daily basis at my position as a process engineer at Jacobs Engineering. I strive to utilize my problem-solving skills through every aspect of my design and calculations work for the biopharmaceutical industry. Truly, problem solving, designing things that matter, and working with creative and intelligent mentors have been the driving force behind my passion for chemical engineering.
Professors at the University of Arizona have celebrated your positive attitude despite keeping a highly demanding schedule. But was there ever a low point when you thought about throwing in the towel?
Throwing in the towel to switch out majors? Never. I have been very fortunate that I knew I wanted to do chemical engineering from the very beginning. My spark for chemical engineering started when I was in my sophomore year of high school, when I started taking chemistry lessons in Malaysia. There was something just so different and intriguing about chemistry. The concepts of molecules and atoms interacting with one another through the formation and breaking of bonds challenged me to delve deeper into the study of the composition, structure, properties and change of matter.
I have always been fascinated with water, and ever since I was a child, I have always been curious as to how soap and water were able to remove oil from one's hands. From then on, it has been this upward learning curve in the world where mathematics and science backed up every single curiosity and question I had about the world around me.
Why is maintaining a positive attitude so important? Some people naturally possess a "glass is half full" mentality. Is that the case with you, or is a positive outlook something that you achieve through discipline?
I would have to say that a positive attitude is a little bit of both: "glass is half full" mentality and one that is achieved through discipline. My dad, Brandon Chin, whom I look up to on a daily basis and attribute a lot of my wisdom to, shared with me an article on the 90/10 principle.
This principle states that 10% of what happens to you in life is beyond your control. However, the other 90% comes down to your attitude and how you choose to react to your 10% of uncontrolled circumstances. For instance, you could be in the worst situation of your life, such as having a loved one being diagnosed with cancer. However, if you choose to make the most out of your tragedy by fueling it with a positive attitude, this physical and mental battle, while not easy, can be a whole lot more bearable and conquerable. I know this for a fact, because this is how I've chosen my path to happiness in my life. I take one day at a time, and in every horrid or unfortunate situation, I choose the positive path in life.
I choose happiness. I choose to have the "glass is half full" mentality, and this has made a world of a difference. Discipline is a matter of self-control and knowing one's limits. Discipline to me is also about knowing your obligations and learning to prioritize and manage your time well. It is beyond a doubt that in addition to my constant "glass is half full" mentality, I have learned to not give up easily when the going gets tough; and discipline is the driving force behind the work I do. Sacrifices (sleep, time, hobbies, etc.) have been made here and there to allow myself to live life to its fullest potential without compromising my values and the elements in life that bring me joy.
In November, 2014, The Washington Post published an article which examined the value of higher education and the perception that its payoff isn't worth its price tag. As a person who seems to have made the most of their education, what is your opinion of any anti-college rhetoric which may be making its way into the mainstream?
First off, please allow me to comment on how well written this article by Valerie Strauss in the Washington Post is. My parents have saved their entire lives and have invested a huge chunk of their savings in my college education. To them, education is a trait that no one can take away from you. To both my mother and father, an education is the best gift you can give a child. In more ways than one, it teaches a child to be independent and is a tool that is everlasting.
Yes, the world criticizes the exorbitant tuition fees for a college education in the US. However, this price tag at the end of the day is worth every penny if YOU, the student, make the most out of your education. By "most," I am referring to the all-encompassing, all-around learning experience you get throughout your four years of college and more (if you're headed down a path towards graduate studies).
Learning is not limited to the classroom and getting excellent grades in class. In my world, learning comes through every aspect of your college experience, whether it is through your leadership experiences in your student outreach activities, scientific and methodical reporting skills in your research lab, people skills in working with a difficult and atypical group of people, communication skills when you need to get your point across on a presentation, philanthropic skills in giving back to the community through fundraising, or so many more situations.
One sentence from the article that stuck with me states, "The maturation of the student – not information transfer – is the real purpose of colleges and universities." I have to say that I cannot agree with this sentence any more. I grew up in Kuala Lumpur, Malaysia and moved to Tucson, Arizona for two years of college preparatory at Salpointe Catholic High School; and performed my undergraduate studies at the University of Arizona in Tucson. My four years as an undergraduate at the U of A have truly shaped a big part of my life in understanding the true meaning of learning. I have come to understand that learning does not stop when you get your bachelor's degree or your masters or doctorate degree. Learning is a lifelong process. The four years in my undergraduate degree and additional two in my graduate degree have presented me with a plethora of opportunities to become a better student, leader, and lifelong learner.
What advice can you offer to any aspiring engineers out there?
This is my all-time favorite question. I strive to live, breathe and practice the six qualities of what makes an exceptional engineer at all times. These six qualities were introduced to me by one of my mentors at Jacobs Engineering, Bob Bader. Bob introduced these six attributes of an exceptional engineer to a group of 25 process engineers in his biopharmaceutical plant design course on the first day of class. The six qualities of an exceptional engineer are: Simplicity, Curiosity, Empathy, Communication, Commitment and Joy.
Simplicity and curiosity contribute to the best technical design in any project, while empathy and communication are important in understanding your clients' needs. Lastly, commitment and joy lead to successful project execution. In addition to these excellent qualities to live by as an engineer, one of the most important attribute to me as an engineer is PASSION. You have to love what you do, because when you are passionate about the work you do, you never really work a day in your life. Many people go into some profession for the wrong reasons such as glamour, fame, money, an obligation to a parent's request, etc. However, when you are forced into something you don't enjoy, the flame will eventually die out.
My dad has stressed this over and over again since I was a little girl: to continue pursuing your passion and what you enjoy doing in life. Alongside this attribute, one also needs to be wise in choosing a passion/career that is in demand and marketable. This is because when you are in a highly specialized field, the horizontal and vertical mobility within the job market might be a little more challenging than in others.
Finally, as someone who has maintained such a busy schedule over the years, what stress management techniques are important for you to remain focused and prevent burnout?
I have to admit that I'm not the best person at time management. I tend to commit to too many things in life, and sometimes I am just tired. But on the bright side, every activity or task I commit to I execute with a 110% dedication and motivation.
I have learned that one important quality to master is the power to say "no." It is okay if you can't do everything. One should avoid being a people pleaser at the expense of your own happiness or sanity. How I manage my priorities and stress in life is through a well-balanced life and an organized calendar. I have my calendar with me at all times and rarely say yes to anything without checking my calendar first. I put all the major important deadlines and priorities in my calendar and review my week ahead of time. This allows me to plan for what is to come throughout the week.
I also take the time to pursue the small things that bring me joy in life which include long distance running, swimming and trying out new restaurants. I consider myself to be a foodie, and I pride myself in being adventurous when it comes to trying out new cuisines. Last but not least, one of my favorite columnists and writers, Mark Manson, introduced a profound sentence in one of his articles. This sentence states: "In a word: FOCUS. You can get more done in life if you focus on one thing and do it really well. Focus more." There is a lot of underlying value behind this powerful sentence, and I think this is a quality I strive to practice on a daily basis.
Follow the American Institute of Chemical Engineers on Facebook, Twitter, and LinkedIn; and subscribe to their YouTube channel.