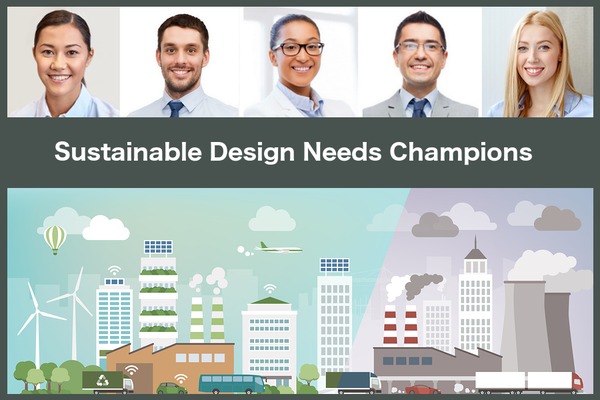 The 2016 political climate suggests that Americans are bored and suspicious about sustainability. Now, after years of regarding sustainable design as the way of the future, architects are concerned that the whole mindset is in jeopardy. But leaders in architecture and sustainable design aren't giving up.
The presidential election isn't the only example of ecology fatigue, although Politifact says POTUS-elect Donald Trump really did say that climate change was a for-profit hoax. An AIA fellow and the JUCCCE chairwoman have both recently talked about sustainability as a dead or dying term.
The difference is that within architecture, it's the word, not the effort, that needs a revamp. Sustainable design has been "co-opted by the branding and greenwashing of corporations and governments and as the technological pursuit as typified by green building programs and other reductive approaches," as Richard Graves, AIA, associate architecture professor explains to Blaine Brownell for Architect Magazine.
"Sustainable Design" Hasn't Failed, it's Been Appropriated
Like so many other terms that become popular with the masses, sustainable design and nearly everything "green" has lost the original meaning. Where there's attention, there's a marketing team ready to capitalize on it. Greenwashing, as an example, profits from the public's interest in saving the earth but fails to do anything about it.
Think about the irony of a T-shirt with an ecology icon on the front that uses harmful dyes and is sewn in a child-labor sweatshop. That's an extreme example of profiting from greenwashing.
More to the point of architecture, when businesses worry more about being perceived as a green company than they do with their own green practices, sustainable design becomes watered down. That's what leaders in the architecture and design community are concerned about.
Architects Can Re-Brand and Keep Moving Ahead
Grave worries that sustainability has come to mean "status quo." After all, "sustain" means to shore up or hold. But while the community is thinking in terms of preventing more damage, the focus has shifted away from improvement. He and other leaders in architecture believe that is a pivot point.
LEED certifications with high costs and mountains of paperwork, carbon footprint shaming and other common angles aren't working, at least not as intended. And Jerry Yudelson, author of Reinventing Green Building: Why Certification Systems Aren't Working and What We Can Do About It, says:
"It's time for new organizations and fresh thinking in green building. It's time to leave behind the current monastic, hair-shirt experience of LEED certification and create a fabulous user experience. It's time for Reinventing Green Building!"
The re-affirmation of environmentally-conscious building practices is only part of the battle, though. The political climate in the U.S. doesn't just reflect boredom with the concept. The election results suggest that many people either don't care or else they don't believe climate change is real, to begin with. That makes rebranding an uphill battle. But it also offers opportunity.
If 2016 really does present a fork in the road, leaders in architecture have an opportunity to find a message that does work.
Brownell asserts, "After all, the direst threat is the diminishment of life itself (including our own) as a result of our species' ignorant and negligent behavior. As long as there are those who continue to strive for the sake of the planet, hope remains."
Architects are uniquely positioned to affect the environment and quality of life in the here-and-now and for generations to come. And part of that comes through continuing education. Check out PDH Academy's courses for architects and do your part for the betterment of humanity.