Todd Jamieson is the President at EnvisionUP and has extensive experience in Internet Marketing, Web Development and Local SEO. To learn more about Todd, visit his company's website at EnvisionUP.com.
In 2007, Google changed the way their search results displayed with the introduction of the Universal Search. This new search layout allowed users to search for more than than just websites. It provided a more "universal experience" that incorporated websites, products, maps, images and more into the results.
Fast-forward to 2015; now our results include "how-to" answers, biographies, photo carousels and a three-pack of businesses shown on top of a Google Map. These three map listings are also referred to as "local results" or "local listings."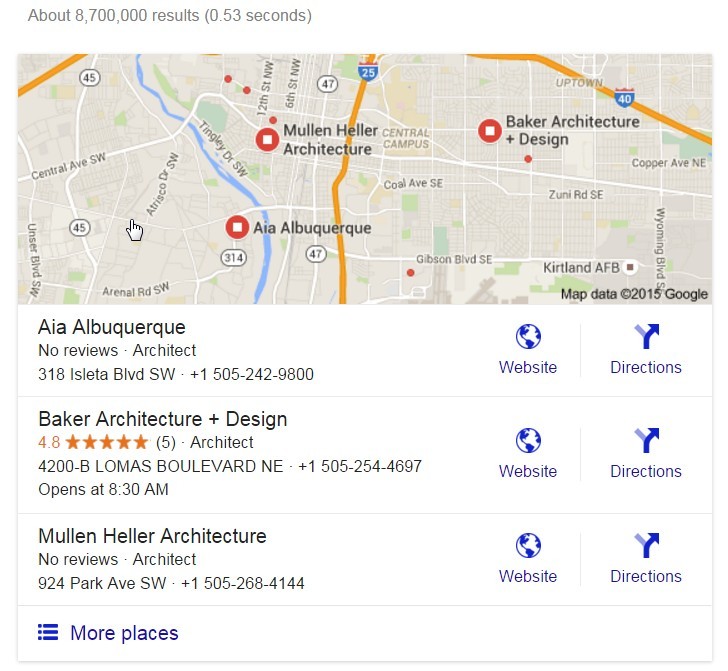 Why Do Local Listings Matter?
A study by Localeze/15miles found that local listings are the most relevant to and trusted by consumers. As business owners targeting local customers, it is important to do whatever you can to get your business listed on Google Maps.
Being part of the "three-pack" club is no easy feat. But there are some things you can do to improve your chances of taking one of those coveted local listing spots.
The first thing to understand is that a user's search location affects the results. That means if you live in Albuquerque and you search for "architects," you are going to see a list of architects in the area. Google's implicit search technology allows them to provide a list of relevant businesses on a map within a few miles of the user's actual location.
If you service an entire city, this makes it extra challenging to appear on the map for those potential customers who are searching from a location that's farther away from your business.
The Three Key Factors
So how do you make sure your business is listed on the map? According to Google, three key factors are analyzed through their local search algorithm:
Relevance
Google states, "Adding complete and detailed business information can help us better understand your business and match you to relevant search results."
This means Google wants to see consistent evidence across other websites that you are who you say you are. They want to see your name, address and phone number (or NAP) written the same way across the board. This helps prove your business identity. In the USA, luckily there are services that can help with this. In other countries, it is a little more difficult to achieve this consistency.
Distance
For the second factor, Google says "how far each potential search result [is] from the location term used in a search" is important. Again, this can become difficult when it comes to service-based businesses and larger cities. While this factor is a little harder to control, it does reaffirm the importance of their local search technology.
There are two ways that distance can affect whether or not you appear in search results. The first is your business's distance from what Google considers the geographic center of the city, a point called a "centroid." The location of your business versus the centroid can influence how often you are listed for local searches. The distance of the searcher to your business will also have a strong impact on search results, as Google often tries to show people businesses that are physically closer to them.
Prominence
Google identifies this factor as "how well-known or prominent a business can be. This is based on information we have about a business from across the web (like links, articles, and directories)."
This factor is open to a lot of interpretation, but generally search engine experts classify this as including "external signals" – positive reviews from customers and outside links from high-authority websites. For example, a link from CNN would be considered "worthier" than a link from your Uncle Bob's blog.
What if Google Can't Find My Business?
In some instances, Google Maps gets things wrong and your business location could be hidden. In these cases, you would need to contact Google Online via their online Map Maker tool to resolve the problem.
An Essential Part of Your Marketing Plan
Getting your business to show on local listings is time-consuming and often frustrating. Many online directories can require a multi-stage process or several submission attempts before your correct address shows. But it's essential work if your business depends on web leads.
As with all marketing efforts, it will help to establish a benchmark. Find out what keywords you appear for before and after you standardize your NAP across the web. Use a good keyword tracking tool and allow a few weeks for your results to be crawled by Google.
You'll be able to monitor your progress in rankings, but don't forget that they change constantly, and even the best tools don't show everything with perfect accuracy. To balance this out, have a healthy handful of other metrics you watch, especially your site traffic and lead volume.
The best thing of all is that as you start to explore these and other metrics, you'll find other ways to improve your online presence and grow your business.
So what are you waiting for? Get on it!
Another way to grow your business is to further your education. Click here to check out PDH-approved courses.