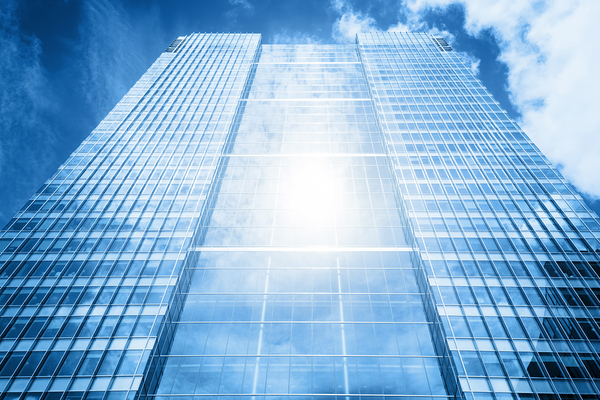 No matter the season, people will find a reason to complain about the weather. In winter, frigid temperatures can make your bones rattle. And in summer, the sweltering heat makes it hard to even breathe. Winter's chill is hard to manage without adding heat in the form of a central heating system. But as for the sun, good design can interesting materials help lessen the effect.
Here are 3 up and coming building products and materials that can tame summer and beat the incessant heat.
#1: Canopy Style Sun Shades
Exactly what they sound like, sun shades cover a space to create more comfortable shade underneath. Some sun shades serve as awning and others as umbrellas. There are even sun shades that wrap patios and decks like curtains, which lets the occupant draw or open them as needed.
A new product, says Architect magazine, is the "Tensilation" umbrella. Made by MDT-tex, Tensilation offers a wide range of umbrella styles, many of which you've probably never seen before. Some look like any other patio umbrella. But others are inverted with the spines on top, some have side arms instead of central poles, and some work together as a modular shade system. Tensilation fabric is UV rated, so it blocks harmful rays while helping people cool off.
Watch how an adaptive awning shade system can help cool an entire high-rise building:
#2: Solar Activated Façade
What if a building's walls could help heat and cool it? Developed by architect, Giuseppe Fent, of Sweden, a solar activated facade or solar thermal cladding doesn't just work in summer, Nelson Solar http://www.nelson-solar.ch/en/solar-facade says that it also helps keeps homes warmer in winter. This building cladding system collects and stores solar heat in winter, which helps heat the building well past sundown. And in summer, angled wood slats deflect rays away.
When discussing a test project, Architect said, "The building produces over 180% of the annual electricity consumption. This doesn't just provide enough energy for the operation of the building but even enough for electric mobility. The energy production is achieved through building integrated pv system in the roof as well as in the façade as part of the SAF ePlus series."
#3: Reflectacoustic
UV-blocking draperies have always been made with heavy material and sometimes a vinyl-coated UV blocking layer underneath. They block out the sunlight and UV rays. But they also make every room feel like a cave. So imagine how surprising it would be to find perfectly functional UV blocking drapes that looked much more like a set of drapery sheers. That's what Creation Baumann has done with Reflectacoustic.
Reflectacoustic is a sheer fabric that reflects away glare and heat. Architect says, "The textile offers a light transmission degree of 27 percent to 45 percent and a light reflection degree of 24 percent to 43 percent; it also provides an NRC of 0.4 when flat and .55 when draped. The fabric has a shimmery, reflective appearance, and the company says that it's available in 5 different colors.
Air conditioning is one way to beat the heat. But when you can employ simpler methods that block heat-carrying UV rays, fewer hours of air conditioning are needed and fewer natural resources are required to operate it. It's an inside-out approach.
Architects strive to create better and more efficient work and living spaces. That's green design. If it's on your mind, check out PDH Academy's courses for architects and get your necessary credits hassle-free.