Would you consider moving to a new area to secure a better and more profitable career in architecture? If so, you're not alone. Architects are always in demand. While the U.S. Department of Labor projects overall industry growth in the coming years, which is always a good thing, some areas are thriving and growing much faster than others.
Architect Career Outlook Through 2024
Architects can expect growth at a rate of about 4 percent into the year 2024, according to the U.S. Department of Labor, Bureau of Labor Statistics. That is a bit slower than the growth that the Bureau projects for all American occupations studied by the agency.
Even so, the agency explains that architects will be in high demand in the traditional areas, such as commercial, government, residential, and other renovation and new construction projects. Healthcare facilities will be another important area for industry growth as the aging population also grows.
Architects with green or sustainable design skills will be in especially high demand, says the agency. Energy conservation, environmentally-friendly design, and eco-safe building materials will become increasingly important.
For the industry as a whole, about 7,800 new architecture jobs will likely be added. That said, this is a great time to ensure that you meet all your continuing education requirements as an architect. That's easy to do with our convenient, online courses for architects!
Where More Architects Earn Higher Wages
Some of the states with a combined benefit of higher employment and higher earnings won't surprise you, but others might. This information, from the agency's Occupational Employment Statistics, can be a useful tool for planning your career and predicting industry growth where you are.
California and New York have far and away the highest concentration of architects with higher wages. And the numbers are almost identical. California currently employs about 12,070 architects with an annual mean wage of $97,880. In New York, there are 12,030 published jobs in architecture and people in the industry earn an annual mean wage of $85,040.
The next closest state is Texas, with 7,910 and an annual mean wage of $81,780. Illinois and Florida also have strong employment and wage numbers. The former employs about 4,610 with annual earnings at $78,630 and the latter employs 4,190 with earnings at $80,090.
Non-Metro Areas with Higher Earnings
While some of the major markets are predictably good for architects, some non-metro locations might really surprise you. For example, architects in southwest Wyoming earn an annual mean wage of $74,670. Southwest Montana is very similar, with annual earnings at about $76,240.
In the hill country of Texas, there aren't as many architects – only 40 published jobs – but they earn about $93,260. In Northwest Colorado, the annual mean wage is about $61,700.
Those numbers aren't as high as for architects in bustling metro locations, of course. But the cost of living in non-metro locations isn't always as high, either.
A notable exception would be Nantucket Island/Martha's Vineyard. There are only about 30 architects employed in that New England location, and they earn an annual mean wage of $103,330.
For your convenience, we have compiled some more location-specific information from the U.S. Bureau of Labor Statistics regarding the job outlook for architects. Simply fill out the form below to access the data right now!
Where Architects Work
As you might expect, the majority (68 percent) of architects work in office settings like architectural firms. What may come as a surprise, however, is that 20 percent of architects are self-employed, and that number is likely to continue to grow.
The advent of advanced technologies is making it easier than ever for architects to set up their own businesses, set hours that provide them with a good work/life balance, and find success in their careers.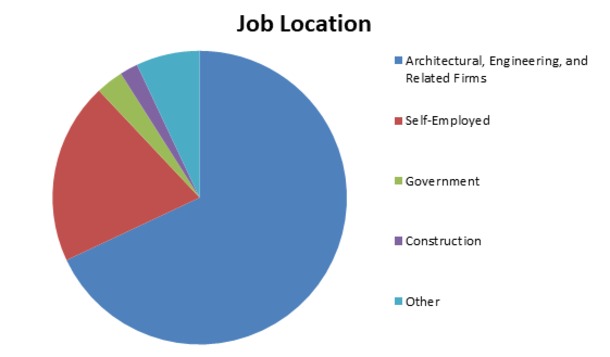 Most Profitable Industries for Architects
Architects work for a variety of industries. Which ones are most profitable for architects? According to the U.S. Bureau of Labor Statistics, the top industries for architects are as follow:
| | | |
| --- | --- | --- |
| Industry  | Hourly mean wage  | Annual mean wage  |
| Land Subdivision | $64.77 | $134,730 |
| Scientific Research and Development Services | $51.10 | $106,280 |
| Electric Power Generation, Transmission and Distribution | $49.88 | $103,760 |
| Computer Systems Design and Related Services | $47.53 | $98,860 |
| Lessors of Real Estate | $46.49 | $96,700 |
States with the Highest Employment Level for Architects
As can be expected, most of the states with the highest concentration of architects are hotspots for real estate professionals as well, with California, New York, Texas, and Florida taking the top spots.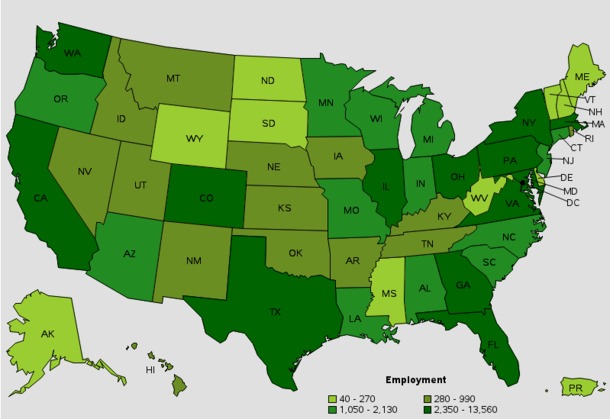 Best Paying States for Architects
Of course, you want to be paid well for the work that you do. So, in addition to finding states where work is plentiful, you may want to look at states that offer the best pay for architects as well. The top paying states for architects are Georgia (at $97,090 annually), Massachusetts (at $95,900 annually), California (at $95,070 annually), New York (at $91,610 annually), and North Carolina (at $91,090 annually).
Here is a breakdown of the national average salaries of architects by state, according to the Bureau of Labor Statistics.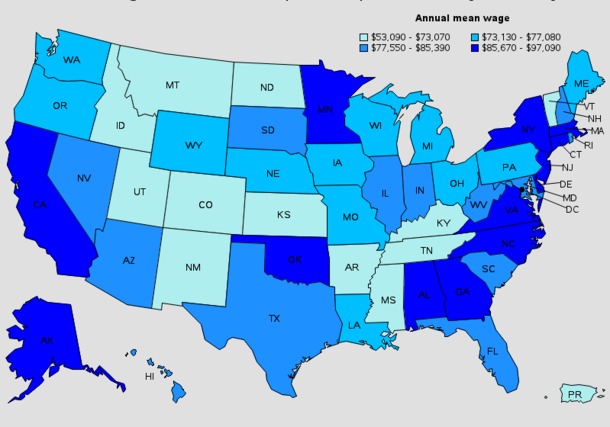 The Average Median Pay for Architects Nationally 
The average median pay for architects nationally is $76,930. However, that pay varies significantly depending on the industry in which architects are employed.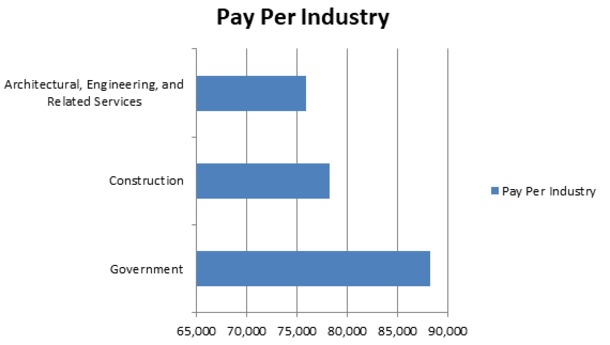 It All Starts with Education

Whether it's time to shake up your career and scout what's available elsewhere or you just want to keep your finger on the pulse of the industry, it's always good to know what's happening outside your office. By the time 2024 rolls around, there will be more architect jobs, and they're growing at a relatively steady rate. Some of them might even be in locations that you'd never have guessed.
Is it time to update your continuing education credits so you can stay competitive? PDH Academy can help with that. Check out our online courses for architects. They are convenient, and we'll even report to the AIA for you!