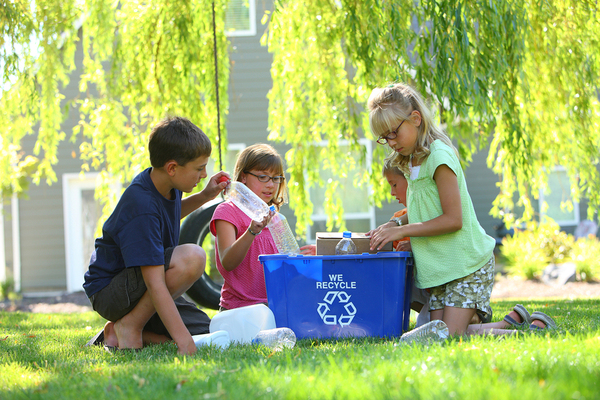 Plastics littering the oceans will soon have a whole new use, and it might be better than all of its predecessors. New construction-grade building blocks made of recycled plastic take the world's waste and transform it into strong, lightweight, useful and economical building materials. They might not be pretty to look at, but what they do for the environment is beautiful.
Waste Plastics are a Growing Environmental Blight
Waste plastics fill the oceans, and the problem is only getting worse. According to a study by the New Plastics Economy, about 8 million tons of plastics make their way into the oceans. That's about the same as dumping one full can of household garbage into the oceans at a rate of one can per minute.
Unchecked, the plastics pollution is expected to grow to the equivalent of about 4 trash cans per minute by 2030. And Architect magazine says that at its expanding rate, there will be more plastic than fish in the water by 2050.
Entrepreneur Turns a Problem Into a Solution
Gregor Gomory, inspired by New Zealand engineer, Peter Lewis, saw the plastics problem as an opportunity to do two kinds of great work at once. His company, ByFusion, cleans waste plastics from the oceans and turns them into impressive building materials called RePlast. Cleaner oceans and new building materials are step one.
Instead of marketing RePlast to a certain industry, Gomory hopes to see "smarter people out there than us that will have ideas," says Architect. One of his hopes is that RePlast will benefit low-income communities. Sustainable housing is step two of many.
Watch as RePlast blocks are created and put to use:
What Makes RePlast a Better Building Block
Although it's a recycled material that's made from discarded garbage, RePlast boasts some pretty impressive benefits. The building blocks are lightweight, much more so than a concrete block. They offer excellent acoustic performance, too.
The thermal performance is another plus of RePlast. Unlike their hollow concrete counterparts, recycled plastic blocks are solid. And there's no binder, so the carbon footprint effect is minimal. They're stacked like concrete blocks, and can accept finishes such as stucco. So even though the blocks are speckled and not especially easy on the eyes, a finished building could look as beautiful as any other.
For every grown-up kid who loved Lego building blocks, environmentalists who look at polluted oceans with despair, and seekers of solutions for low-income housing, RePlast could become a giant step forward. All of those 2-liter bottles, cups, packages and other discarded plastic bits and pieces get a new lease on life as an efficient, low-carbon-footprint building material.
Although the product and processes are still being perfected, there already appear to be nearly limitless possibilities. With an ample supply of raw materials and a wide-open market, this NY and LA-based startup might really be onto something.
Architects are in the business of making the world a better place from the ground up. And PDH Academy is in the business of making architects better. That's another winning combination. When your next professional development hours are due, check out our convenient, online courses for architects.