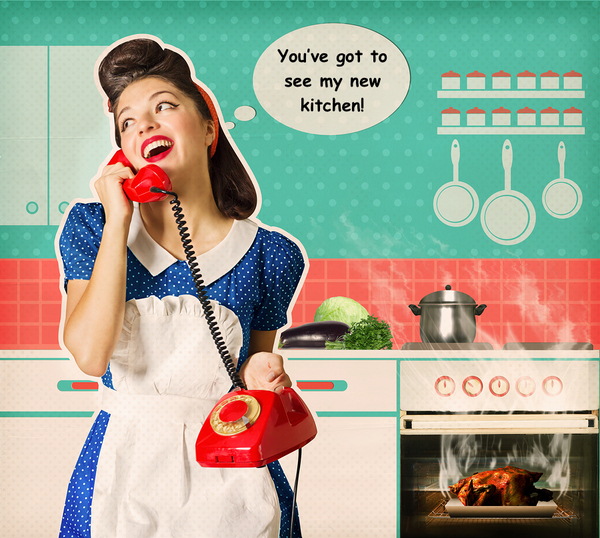 They've come an awfully long way.
With so much activity and the fact that it's the very heart of most homes, it's hard to imagine how bare-bones kitchens used to be. The early 1900s saw the rise of the Hoosier cabinet, and that was a game changer. From there, a humble space became more efficient and sophisticated until it arrived at where we are today. You can thank the Kalamazoo Kitchen Kabinet and Frank Lloyd Wright for that.
Meal preparation in 1920 might have been a lot different from the way it's done today. But you could see the early signs of a renovation revolution already taking place.
Pre-1920s Kitchens: Big and Clunky
In the earliest part of the 20th century, there were no such things as built-in cabinets. Miles of countertops hadn't yet arrived, either. Instead, storage and food preparation took place in large rooms across separate cupboards, shelves, and work tables. Fitbit wasn't around then, but you can bet that cooking one meal could leave a person ahead of their daily fitness goals.
That's when the "Hoosier" cabinet was invented, and it revolutionized kitchen storage and workstations. The "Hoosier" Kalamazoo Kitchen Kabinet combined upper and lower storage and a works station in one. That was the earliest incarnation of the modern cabinets we have now.
As for appliances, the most modern kitchen stove of the time was gas. But there were still plenty of wood-burning stoves in operation. Some even burned coal. Running water was a thing, but it hadn't yet caught on very well. That didn't happen in some rural areas until about 1930. Refrigerators were born in 1920, though. That was a landmark achievement.
The 1930s Brought Radical Changes
What the 20s started, the 30s expanded on. Water flowed through most homes, and so did electricity. That gave homeowners more choices for everything from installing a refrigerator to turning on lights to cook the evening meal. Refrigerators were very expensive. Accounting for inflation, that $100 fridge cost the equivalent of about $1,700 today. That's according to Matt Novak for the Pacific Standard.
But perhaps the most visually striking change in the 1930s kitchen was built-ins. This decade saw the progression from freestanding Hoosier cabinets made of steel to steel cabinet components that could be joined and installed as a unit, complete with plenty of countertop space.
Built-ins took up less space, which meant kitchens could be smaller and more efficient at the same time. Surprisingly, wood cabinets were not as popular because steel was promoted as more sanitary.
In the 1940s, kitchen design became a lot more scientific. Watch this educational video published by the U.S. Department of Agriculture in 1949:
The 1950s Kitchen Settled Into a New Way of Life
By the time the 1950s arrived, the modern kitchen had evolved to the earliest version of what we still use today. Steel cabinets were still popular, but this decade saw a resurgence of wood. Laminate also emerged as an easy-to-clean surface that was available in numerous colors for cabinets and countertops.
The resurgence of wood in the 50s isn't surprising. Under Frank Lloyd Wright's design influence, wood became an important material again. And by the time 1960 arrived, his open-plan kitchen had become an architectural and advertising model.
Wright's Usonian House in Michigan had the ideal kitchen with curved lines to emphasize the open-concept design approach. Its sleek, streamlined built-ins with gleaming wood finishes were featured in the 1960 publication, How to Plan Trend-Setting Kitchens.
It's difficult to imagine how much kitchen design might change in the future, especially since its basic form has changed so little since the 50s. But in 1920, homeowners probably couldn't imagine double wall ovens, dishwashers and icemakers, either.
Kitchens are now starting to shift toward less conspicuous appliances. Although French door stainless steel refrigerator freezers are still a bit of a status symbol, many custom kitchens now have hidden refrigerator compartments tucked into the cabinetry. Camouflaged appliances are also gaining some ground with their cabinet door fronts that blend with the rest of the room. And then there's smart home technology where you can turn on the oven or turn off the coffee pot from the living room or across town.
Architects create the new world that homeowners step into, whether it's an updated spacious kitchen design or a pint-sized tiny house built for two. To stay on the cutting edge in your industry, let PDH Academy help you keep continuing education up to date. Check out our online courses for architects.