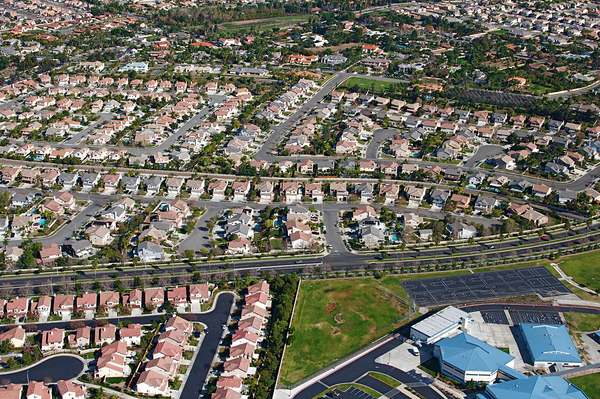 Ugly blight, or vital community?
You've certainly seen it, and maybe even experienced it. The snobbery that's directed at suburban life has had its heyday with ample support from numerous directions. There has been no reason to consider the 'burbs as anything besides a cultural wasteland where carbon emissions grow like so many carefully curated flower beds. At least not until now.
Suburbia gets a bad rap. But urban dwellers might be in for a real shock to learn how vibrant, important and full of potential these areas really are. Most of the elements of an oh-so-conscious urban life actually started out in the suburbs anyway.
Hint: That overpriced container of edamame in the fridge? It probably came to the organic grocer from an ordinary warehouse just off the Interstate and just outside the city.
The Distaste for Suburbia is Likely Misplaced
Try to get a top designer or architect into a suburban project and you'll be waiting a long time. Architect magazine says, "The bias against suburbia remains strong among designers and critics, whether it manifests as tirades against sprawl or utter indifference." At least unless a huge client, such as Apple, is the one writing the checks. But MIT wants to challenge designers to think about the suburbs differently.
Cities grow, and they can only grow up for so long before they have to grow out. Even urban areas had to begin somewhere, and there's evidence to suggest that the relied-on carbon emissions statistics are skewed. Cities tend to have lower emissions per capita than suburban areas, but there's more going on that just the location.
Suburban household incomes tend to be higher. People who live there drive vehicles more often and live in larger homes. These contributors to higher emissions could be corrected with a different design approach to suburbia. But that can only happen when designers begin to consider the suburbs instead of discarding them altogether.
Something as simple and clever as emissions-free delivery bots could help transform suburban communities.
Suburbia is Still the Natural American Dream
The advertising image of an intensely conscious urban life might not be the most accurate. But it's so prevalent that it's becoming as believable as the classic 1950s image of a housewife vacuuming while wearing heels and pearls. Society tries to live up to what it's told is the norm, even when the norm isn't reality.
The truth is, according to Architect, that when given the choice, Americans much prefer to live in a single-family home with a lawn. That's in sharp contrast to urban life as advertised, whether those ads are directed at the choice of where to live or not.
The issue, then, is how to rethink suburbia. Landscape architects are stressing a rewilding of the stereotypical manicured grass lawn with the token lollipop-shaped tree. Smaller and more efficient homes are another answer. Sarah Susanka's series, The Not So Big House, is continually well received. Transportation is a major issue since it's a large contributor to higher suburban carbon emissions.
There is room for a dialogue about urban and suburban life in the same sentence, and they don't have to conflict. People still need homes and neighborhoods to live in. Imagine what would happen if every suburban dweller suddenly tried moved to the city. It wouldn't be possible, so there must be another option.
To discount such an enormous section of the population is, in the minds of MIT researchers, a bit elitist. Suburbia accounts for much of the goods and services that urban dwellers rely so heavily on upon. And suburban dwellers are no less a part of the American landscape than an artistic type living in a converted loft in the hippest part of a trendy city.
Architects have a huge responsibility and hold the keys to the kingdom where widespread positive change is concerned. And part of that responsibility is continuing education. When it's time to earn more professional development hours to support your career, PDH Academy is there. Check out our courses for architects and stay current with fewer hassles.