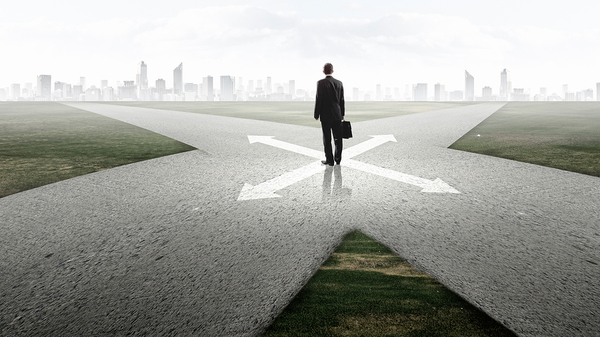 Sometimes a crossroads leads to a brand new rewarding career.
If you've thought about changing careers or just taking on a side project, you're not alone. Architecture is a demanding job, often with long hours, and the skill set is versatile. That's a good foundation for branching out into something new and challenging or just new and fun.
"Architects can change jobs relatively easily because skills such as creative problem solving, iterative thinking, information synthesizing, and project management translate well into other professions," says Alice Lao for Architect magazine. So instead of taking a more traditional route, such as the one into interior design, aim for something entirely different. You're probably more than qualified.
Career #1: Writer
Ernest Hemingway once said, "There is nothing to writing. All you do is sit down at a typewriter and bleed." And for many writers, that's truer than they'd like to admit. But not all writing is exhausting and stressful. With the right approach and a great project, it can even be fun.
Megan Padelecki, who earned her B.Arch. from the University of Texas at Austin, made the switch to writing children's book. She self-publishes and says her skills with CAD, Adobe suite, hand drawing and business skills such as project phasic and scheduling help make it work for her.
Her first book, Big Mo (2015) took 6 months from start to finish, from writing to publishing.
Megan's advice: "Be patient, proactive, and persistent, and solicit input from others." Writing a book is a slow process.
SOAR: An Animated Short from Alyce Tzue on Vimeo.
Career #2: Animator
The world of 3D animation is only growing larger. Alyce Tzue earned her B.A. in Architecture from Princeton University and her M.F.A. in 3D Animation from the Academy of Art University. Now she's a successful animator. She says that her crossover skills include 3D modeling and animation, plus the ability to place herself into an imaginary space.
Animated films often take place in an imaginary environment, much like the imaginary environment of a building before it's built. The fact that the worlds are imaginary are, she says, "often why a story needs to be animated."
Her thesis project, Soar, Tzue won a Student Academy Award. She managed a team of 100 peers, which she says was difficult for an introvert. But "It's impossible to be a director without loving the process of bringing those people together."
Alyce's advice: Look for an art school with a collaborative environment. If the cost is off-putting, check out an online art school such as Animation Mentor. http://www.animationmentor.com/
Career #3: Film
Director, screenwriter and producer, Christian D. Bruun, is the co-founder of Light Cone Pictures. http://www.lightconepictures.com/LCPwww01.html He earned his M.Arch. from Aarhus School of Architecture in Denmark.
Now an international film director and producer with over 15 years in the business, Bruun says that it was his ability to take an idea "from conceptual development to execution, visualization, drawing and project management" skills that gave him a good foundation for his career shift.
"You have to think about the structure of the film and about what you want to say," he tells Architect. As for skills that you'll need to acquire, think about the technical side of filmmaking. You'll need to know how to use camera lenses for effect, how to light a scene and, perhaps most important, how to find project financing.
Bruun's advice: "Apply for a position that exposes you to pre- and post-production and gives you time on set during filming."
Architects aren't the only people who think about changing careers. Most Americans think about it at some time or another. And many don't just change companies, they reinvent themselves completely.
With the critical thinking and technical skills that you've acquired and honed, you'll be more than ready to branch out into a side job or a whole new phase of your working life when the mood strikes.
Until then, PDH Academy helps you keep your continuing education credits current, and we offer them in a loss-stress online environment. Check out our courses for architects when your next professional development hours are due.