Each year, World Monuments Fund (WMF) selects places around the world to watch and help preserve for future generations. These places are significant for different reasons, but all have one thing in common: They're at genuine risk of destruction.
Since 1965, WMF has played a role in numerous endeavors. Funds were raised for the restoration of buildings affected by Venice floods, earthquake damage in Mexico City, earthquake restoration in Italy, post-Katrina New Orleans, and many more.
Here are just three of the 50 places on the list for 2016:
Petra Archaeological Site, Jordan
The ancient ruins of Petra still exist despite centuries of natural and man-made trauma. For years, tourists walked over the fragile stones freely. Flash flooding and earthquakes are a persistent threat. Since 1996, WMF has helped educate tourists about the delicate nature of the site, and worked with the Petra National Trust and Jordanian Ministry to develop a long-term plan.
In years past, WMF has provided a site survey, climate change study, signage, institutional strengthening and capacity building. The organization has also worked on reconstructing water channels and conservation of the Great Temple, Byzantine Church and Qasr al Bint.
Bucharest, Romania
Not a single site but an entire city, Bucharest, Romania, is in danger from different directions. Abandonment of many buildings, development that's seemingly without a plan, and "inappropriate rehabilitation" are among the dangers that the city faces. Budapest is rich with history, but abandoned buildings are at risk of demolition before anyone can work to restore them. And restoration is its own challenge, as skilled craftsmen who can reproduce the architectural and ornamental elements are scarce.
The central problem appears to be a lack of adequate protection from the local government combined with a growing economy that wants to improve the city. Instead of working with what it's got, which are some impressive examples of Neo-Romanian architecture influenced by French styles, the older buildings get cobbled back together or demolished altogether. WMF says Budapest is in urgent need of an immediate halt to all demolition, an inventory of the city, restrictions on new development, and a dialogue between the local government and its citizens.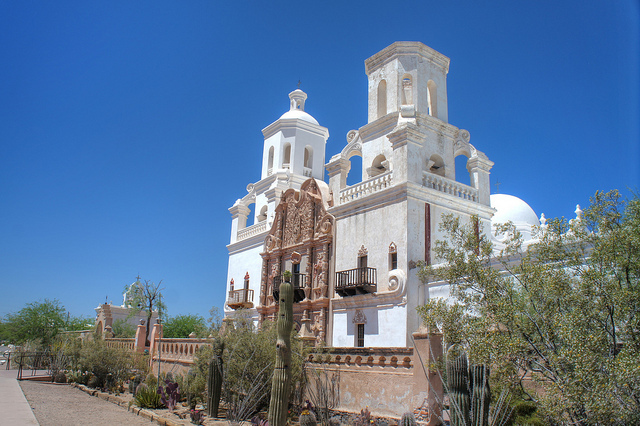 Mission San Xavier del Bac, Tucson
Built in 1692, the Mission San Xavier del Bac in Tucson, TX, is a success story. Built of local stone and brick, and whitewashed to stand proud against the landscape, this mission is still in service today after a "well-intentioned restoration campaign" inadvertently made the mission vulnerable to water infiltration.
Reversal of the damage began in 1988, and in 2009 restoration on the west tower was finished. Fundraising for restoration of the east tower is happening now. The Mission San Xavier del Bac is important for its architectural and artistic qualities, as well as its active role in the community. WMF is committed to supporting this project to keep the preservation efforts moving forward.
World Monuments Fund has worked since the 60s to identify, acknowledge and help preserve places around the world that are at risk of changing forever. Some historic sites lack local support, and some lack the means to restore and preserve them. But through massive fundraising campaigns and an active role WMF not only raise awareness, it does something about it.
Architects the world over help create the buildings that will stand for generations, and education is what keeps architects like you involved. PDH Academy understands how important continuing education is to your career, which is why we make it hassle free. Check out our courses for architects when your next credit hours are due.
Image credits:
Temple of Bel, by Paul Stocker, via Flickr Creative Commons.
Petra, Jordan, by Gary Bembridge, via Flickr Creative Commons.
Mission San Xavier del Bac, by Denny Armstrong, via Flickr Creative Commons.