Florida building code is strict and growing more so. However, property damage from severe weather still grows into the billions when a major threat hits land. Florida architect continuing education helps keep you informed of the latest updates, which, according to the Florida Building Commission,  now happen every three years.
There's mounting evidence of the role humans play in climate change and the increase in severe weather activity. What's not as widely discussed is how humans help shape the scope of damage when a natural disaster strikes.
Florida building code continually evolves to afford better protection against winds, debris, and flooding. But many homes were built under less strict codes. And no matter how dangerous, more homes and commercial properties are built in at-risk locations every year.
Many Florida Homes Were Built Before Stricter Regulations Took Effect
One of the most comprehensive updates to Florida's building code happened in the wake of Hurricane Andrew, which occurred in 1992. The effects of that storm cost tens of billions of dollars in insurance claims and took 65 lives. It hit South Florida head-on.
Local and state officials developed new, much stricter building code, which was adopted statewide in 2002. According to the Wall Street Journal, many applauded the new incarnation as a benchmark in construction regulations for protection against storms.
Unfortunately, new regulations didn't help homes and commercial properties that were already built.
Homeowners, home buyers, and real estate investors might not consider that new, safer code only affects new construction commercial properties, homes, and renovations. If a structure was built before 2002 and has had no major updates, it's probably not up to new standards.
The Most Dangerous Locations in Florida Draw the Most People
After so many hurricanes have hit the Atlantic and Gulf coasts of Florida, the most logical reaction would be to move inland. That's not what happens, even shortly after a storm. Scientific American says it's just the opposite. The coastal areas attract businesses and homeowners, even though they're more likely to experience a hurricane and flooding.
Stephen Strader, meteorologist and disaster risk expert, notes that Florida is still at risk because of population growth and overdevelopment in unsafe areas. Building and living in hurricane- and flood-prone areas doesn't cause more storms. But it does have a direct effect on the scope of property and human damage when a severe event hits.
Strader calls it the "expanding bull's eye effect." In the 20s, Miami Beach was built in a vulnerable area. Now, high rise commercial properties go up on barrier islands, he says, and developers fill in marshes to encourage development where no one was ever intended to live.
While the risk of stronger and more frequent storms grows, humans tend to compound the issue by building and living where hurricanes are more likely to make landfall. Stricter building codes can only do so much, but they evolve to consider both weather patterns and the most popular locations for development in the state.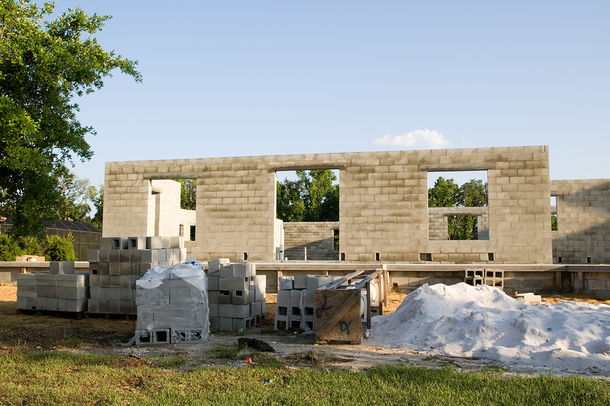 Florida Building Code Has Adapted to Storms and Investor Preferences
The last code update in 2002 was developed in response to Hurricane Andrew as well as predictions about the future of storm activity in Florida and the places where Floridians want to live and work. Coastal areas and marshlands were never ideal locations for any structure. But that hasn't stopped business and homes from springing up, so the code has had to adapt. The risks also haven't prompted homeowners with older properties to update them across the board.
With stricter guidelines, new homes and commercial buildings are safer but not as safe as they would be farther inland. New construction doesn't equal hurricane-proof.
Older structures that were retrofitted with new roofs, stronger fasteners, and impact-resistant doors and windows are safer, as well. And depending on the location of the structure, continuing education for architects shows that standards might be even more stringent.
Broward, which is a high-velocity zone, requires buildings to resist gusts of 140 miles per hour. In Miami-Dade, it's 146 miles per hour. That's according to South Florida Standards in the Florida Building Code.
Here are a few more updates found in current Florida Building Code and the PDH Academy 6th Edition continuing education advanced course:
Maximum wood structural panel span for wind-borne debris protection
Impact resistance for glazed openings
Flood depth, velocity, and duration
Wave impact loads
Higher local "freeboard" standards in certain communities
Florida Building Code is updated on a regular basis–at least every three years–to include new technologies and building materials as well as an advancing knowledge base about building science, hurricanes, and flooding. Florida architect continuing education requires 24 credit hours every two years, so staying current through PDH Academy ensures you're always informed.
This year, check out one of the most stress-free and convenient ways to earn continuing education hours, keep your Florida architect license in good standing, and help implement new guidelines for safer Florida structures. Check out our courses for architects today.