Florida building code is a living thing. It responds to new technology and knowledge about weather events. It adapts to how the built environment reacts to technology and procedures. It grows and matures with the times. It evolves.
With the storm activity of 2017, recently updated building codes guided by storms of the past were put to the test. They're likely to evolve again as more information emerges about code strengths and weaknesses, building practices, and new building materials that help homes and commercial properties withstand weather events.
Hurricane Harvey, which hit Texas last summer, caused as much as $35 billion in insurance-covered losses. CNN Money says the total damage, including uninsured loss, was nearly $90 billion.
One month later in Florida, Hurricane Irma caused nearly $6 billion in insured losses. According to Insurance Journal, one small course shift could have launched losses into the hundreds of billions.
Building codes are designed to protect people and property from injuries, loss, and damage. As technology broadens understanding about how weather events tend to behave, new standards emerge to ensure the next generation of the built environment is safer than the ones that came before.
Building Code is Partly Formed by Where People Prefer to Live and Work
Instead of people adapting to severe weather by choosing a safer place to live and work, building codes adapt to the wants and needs of people where they are. As long as new homes and commercial properties go up where hurricanes often tread, safer standards will be a requirement. People don't tend to move away from the coast, no matter the risk.
You've probably heard at least one story about a longtime coastal resident who decides to stick it out through a storm. They've survived all of the others, so there's no reason to believe the next storm will leave them homeless. But all it takes is that one course shift to turn a home or an office building into rubble.
When Hurricane Irma bore down on Florida, The LA Times says governor Rick Scott sent out the message, "You need to leave — not tonight, not in an hour, right now. This is the most catastrophic storm the state has ever seen." Still, many stayed put.
The last major Florida building code overhaul went into effect in 2002. That was in response to Hurricane Andrew. Fortunately, Irma damage wasn't as devastating as the early estimates implied. For many, those stricter standards are the reason roofs remained intact and buildings held together.
Newer Homes are Much Safer, Older Buildings Remain More Vulnerable
Thanks to the new, stricter code in Florida, many homes and commercial properties had built-in strength and flexibility to take what Irma dished out. Some homes were a near total loss in September. But many newer properties stood once the winds and rains died back down again.
Homeowner Stephanie Carr tells the Wall Street Journal that her Naples home was updated to 2002 building code standards after Hurricane Wilma nearly tore off her roof in 2005. Having been built before 2002, it wasn't as resilient as it could have been. When Irma arrived, it was ready.
Some of the upgrades guided by the new building code include:
Standing seam metal roof
Continuous roofing panels
More durable fasteners
Hurricane impact-resistant doors
Hurricane impact-resistant windows
After Irma, a real difference between homes built or retrofitted to current code and those that weren't started to take shape. In general, the WSJ says older homes didn't fare as well. Newer homes are being built a bit higher than older homes. They take on less water. Florida Home Builders Association chief executive, Rusty Payton, tells the WSJ that the feedback was positive. "There will be a deep dive," he explained. "It appears that it did its job."
Some locations are known for having older real estate. The Keys, for example, have numerous older homes built long before modern building code was developed. By some estimations, those built or retrofitted to the newer code suffered significantly less damage. Austin College professor Kevin Simmons tells the WSJ that windstorm losses have been reduced by as much as 72 percent.
Florida Building Code Has Varying Standards by Location
It's not just the coastal location that makes a home or building more vulnerable. It's also which coastal location.
Depending on where the property sits, local building code might have stricter requirements. That's the case with the Florida Building Code (FBC) South Florida Standards.
FBC hurricane protection is based on the American Society of Civil Engineers Standard ASCE 7-90 and covers structures erected in the "wind-borne debris region," which wraps the perimeter of the state. A wider band of territory covers South Florida.
These upgraded standards now require buildings to withstand wind forces of 110 mph or greater, depending on the location. Known as the "high-velocity zone," areas such as Miami-Dade and Broward Counties have exceptionally stringent hurricane provisions, which were developed as a direct response to Hurricane Andrew.
Across Broward County, code requires buildings to withstand 140 mph winds. In Miami-Dade, which is the strictest, buildings must withstand 146 mph winds. Going a step further, these parts of the state must also have integrated wind-borne debris protection.
The 2002 code also requires homes to have enclosed openings, which are glazed openings with either hurricane shutters or impact-resistant glass.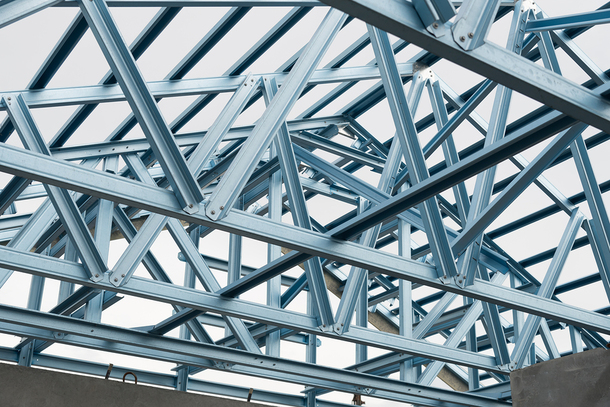 Storm Protection Begins at the Design Stage
Instead of designing a structure and then incorporating reinforcements to help it withstand severe weather, storm protection should be designed into the structure. Butler Manufacturing senior research engineer Mark Henry tells Metal Construction News that's the best strategy.
The International Building Code defines load paths as either vertical or lateral. A complete load path must transfer external forces through the structure, ultimately reaching the soil. Henry says every beam, joist, girder, post, truss and all structural elements play a role in an effective load path.
There's something appealing about coastal property that draws people toward it against all odds. Although inland locations are safer, more people want to stay closer to the ocean. Even though the Florida Keys have virtually no protection against severe weather, there's something appealing that keeps homeowners and businesses there.
Climate Change Once Influenced Infrastructure and Building Codes
With every new storm season, there's more to learn about how and whether homes withstand winds, flooding, and debris. After careful research and evaluation, code updates are made and implemented. During the Obama administration, there was a shift toward working proactively from the federal level to keep people and property safer. But that might not always be the case.
The Obama White House view was that climate change was a real factor in the severity of storms, and therefore an important element in storm preparedness.
The White House statement explained that the Obama administration intended to institutionalize resilient building codes in virtually all aspects of construction, from federal building to schools and homes. That may not apply any longer, at least not at the federal level.
The current administration has already rolled back Executive Orders 13807 and 13690, which instituted design and planning regulations and established a standard for federal flood risk management.
Environmental scientist Kristina Dahl says eliminating flood risk management puts buildings and people at risk. As an example of design and construction without regard to flood risk, she notes that the new San Francisco Bay Bridge "will be permanently inundated" if sea level rises three feet. By 2060, she says, a two-foot rise may have already happened.
In 2016, the United States experienced more floods—19—than in any year on record. That's according to Munich Re Group reinsurance company. Thirteen people were killed in Louisiana and 60,000 buildings were destroyed. The company also said there were 91 "weather, climate or geological disasters" the same year, the second highest number on record.
But That May No Longer be the Case
From the current administration's point of view, stronger restrictions impede progress so they're peeling away as many as possible. The Hill explains that the Trump White House intends to institute "massive permit reform" for infrastructure which Trump believes "make you do unnecessary things that cost billions and billions of dollars, and they actually make it worse."
The American Institute of Architects urged lawmakers to "reject attempts to roll back protections that make good design and careful planning the hallmarks of U.S. construction," says Hanley Wood.
In 2017, Florida changed the way that the FBC is updated, says WLRN Miami/South Florida. It's part of the streamlining that aims to make code updates more efficient. Some worry, says USA Today,  that a speedier process will encourage less attention to safety standards. Some Florida lawmakers disagree and say that it's all in an effort to "modernize the process."
Florida building code is always changing. Modeling technology can help clarify where the weak points lie. So can simple observation.
Homes built prior to severe weather events, such as Hurricanes Andrew and Katrina, are typically less apt to withstand another serious event. But as code evolves, new construction homes and commercial properties employ better construction methods and safer materials.
That's what leads to results such as the Carr home in Naples, FL. Before updating to the latest code requirements post-Hurricane Andrew, they nearly lost their roof. After retrofitting, the worst damage during Irene was with landscaping. That's defense enough for an ongoing process that monitors storm severity, evaluates damage with respect to hurricane construction standards, and develops updates that make buildings safer over time.
Architect continuing education raises awareness of new developments and keeps skills sharp, whether for a design that resists hurricane-force winds in Miami or a home that can withstand a tornado in Kansas. When your CE credits are due, check out our courses for architects.