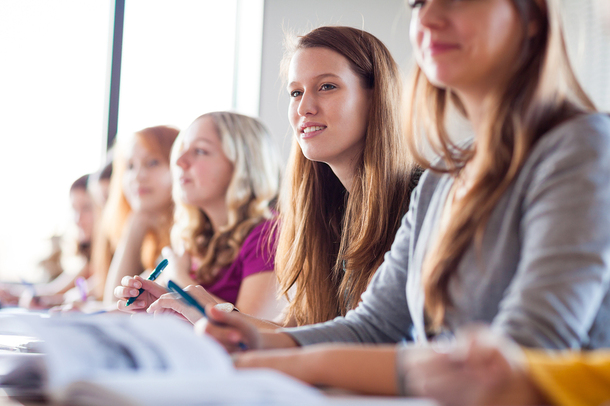 You would think that in the 21st century, the struggle for gender equality would be relegated to history. That is not so, especially not as it applies to the career paths women take. It is unlikely that many American women are overtly told that they cannot become engineers. That is not socially acceptable. However, subtle and silent barriers still exist, and some of them are just as detrimental.
Fortunately, this is also a century of change.
Anyone can help more women consider engineering as a viable career option. Parents and educators can open doors that expose them to the possibilities. People in STEM fields can support young women who need direction.
It takes time and consistent effort, but signs of improvement are already there. Here are four ways you can do your part to bring women and engineering together.
#1: Start the Conversation Early
Although girls tend to have a fairly balanced appreciation for technical and non-technical interests at a young age, engineering needs to sway them over to the technical side. It is good for the industry and it is good for girls to know their options before societal influences steer them elsewhere. It is never too early for a young girl to learn about engineering.
Fifty years ago, many girls had their lives planned out in advance. They planned to grow up, get married, and raise a family. If there was a gap between graduation and marriage, maybe there would be a job. If there was no marriage, women were viewed in society as unfulfilled or incomplete.
Thank goodness that is over, but some of the stereotypes remain as threads that make up the fabric of a woman's life. More now than ever, girls need to understand that their minds are equally suited to engineering as they are to anything else they might want to pursue.
Educators, parents, and communities should pull together in big and small ways to prove that engineering is not a male career. It is universally likely and approachable. Here is what Edutopia recommends:
Look for or create opportunities to introduce girls to STEM fields.
Help girls get involved in STEM programs.
Support organizations, such as the Girl Scouts, that help girls learn about STEM fields.
Look for mentoring opportunities.
Expose girls to other resources, such as the Association of Women in Science and the Society of Women Engineers.
#2: Illustrate How Engineering Relates to Personal Values
The younger the student, the more she wants a career that matters. The generation that is beginning to age out of high school and into college has a more global awareness. They are concerned about how their choices affect the lives of others.
Baby Boomers wanted to go to work. Women in Generation X finally overcame the cheesy "career girl" label and figured out that a career and a fulfilling life were not mutually exclusive. Millennials grew up and realized that their choice of career made a statement about their worldview.
With Generation Z, careers are pursued and jobs are accepted based in part on how they can make the world better. Ethics in engineering could be a great talking point with girls. 
What stronger foundation for a dialogue about engineering careers than how the field can help make the world a better place? Some aspects of engineering might conflict with personal values. That is where the industry needs change-makers.
#3: Develop a Great Network of Successful Engineering Mentors
As young women give engineering more serious thought, sometimes a word of confidence and an example of success are all that is needed to keep them on track. Getting into college is already difficult. A mentor can help demystify what they need to do in high school to improve their odds of college acceptance into a great engineering program.
The Conversation says young girls need encouragement and guidance on developing spatial skills. That gives them a good foundation for "scientific exploration as they grow."
Unfortunately, some women switch college majors and leave engineering before giving it a real chance. Every student lost is a loss for the industry. A mentor can help students navigate the challenges of a tough, competitive program and conquer them instead of giving up.
The Conversation also explains that helping women feel less alone in engineering should be everyone's goal. Mentors can help. Women of all ages and at different stages in their engineering education and career can benefit from a mentor. There are many reasons why fewer women enter the field than men. For all of those reasons, there is a woman who has beaten the odds.
Ohio University professor of chemical and biomolecular engineering, Dr. Monica Burdick, says at Engineering.com that mentoring can help with these and many other obstacles:
Societal biases
Institutional biases
Gender biases
Academic challenges
Professional career challenges
If you need a mentor, seek one out. If you can help other women, join a professional organization, such as Women in Technology, or connect with colleges and universities to find women who need support.
#4: Knock Down Barriers Everywhere You Find Them
Women in engineering help shape the industry of tomorrow. Depending on how you look at it and whether you take part, that could be a good or a bad thing.
Obstacles between women and engineering careers are well-documented, and it is not just an American problem. Catalyst says Australian STEM graduates are evenly split between women and men. However, only 11.8 of their engineers were women in 2011.
Here is what the women's share of engineering education looks like in the U.S:
18.4 percent of bachelor's degrees
24.4 percent of master's degrees
22.7 percent of Ph.D.'s
Here is how American women are represented in STEM careers:
Computer and mathematics: 24.7 percent
Architecture and engineering: 15.1 percent
The more technical the career, the fewer women are represented. Here is how Catalyst says "high-tech occupations" are distributed among women.
Aerospace engineers: 11.3 percent
Computer hardware engineers: 12.8 percent
Software developers: 17.9 percent
Computer programmers: 21.0 percent
Computer systems analysts: 34.2 percent
While engineering programs at some of the great American colleges and universities have an equitable attitude about women in engineering, that is not universally true. Some major higher education institutions have significantly more women enrolled than men.
According to Burdick, 17 percent of men earn STEM degrees. Women have a much smaller presence at 6.7 percent.
There is opportunity all around you to make a difference. Closing the gender gap for women in engineering is not about making the field look great on paper. Engineering needs diversity if it is to grow, advance, and thrive. When you help more women find their way to engineering, you help the industry as well as society.  Because there is no logical reason for barriers to exist, they can be taken down brick by brick.
PDH Academy is committed to helping all engineers meet their potential and stay involved in the industry. When you need continuing education, check out our PE approved courses.