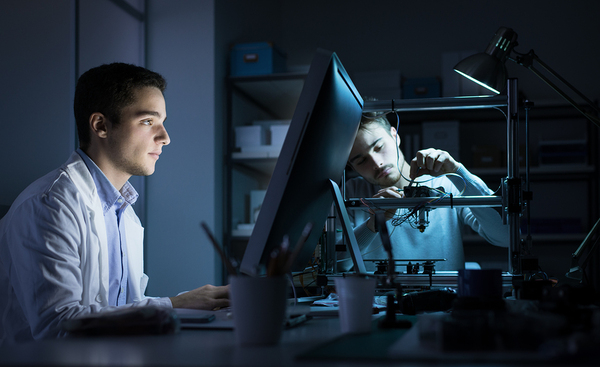 3D printing lifts designs off the page and puts them in the hands of the product designers who dreamed them. They create a "future is now" scenario in nearly every application, and the industry is just getting started.
If you've wondered what's the big deal with 3D printing, here are four of the many reasons to be impressed.
#1: Quick and Accurate Visual Models and Prototypes
It could take days, weeks or much longer to build a scale model or working prototype. The more complex, the bigger the time investment and potential levels frustration. With 3D printing, models and fully operational prototypes can be manufactured in a fraction of the time.
Engineering.com says where appearance isn't relevant for performance, as thermoplastics and nylon aren't necessarily beautiful, 3D printing enables complex reproduction. Some manufacturers are testing Continuous Liquid Interface Production (CLIP) for quick production of parts intended for an end-user.
#2: Custom Made Production Tools 
With prototypes often comes the need for precision tools, guides and dies and assemble, operate and maintain them. However, Engineering
makes a good point: outsourced tooling isn't cheap, nor is it a quick process.
Manufacturers can use 3D printing to produce proprietary tools of their own design, or create a 3D printed mold from one tool to cast many. Instead of spending a fortune and waiting weeks or longer for delivery, the future may enable large- and small-scale on-site 3D manufacturing.
#3: Precision Molds and Casting
What's possible with 3D molds? Virtually any object of any dimension. This is one area where 3D printing really excels. Jewelry and dental crowns possibilities are making headway, says Engineering
, and so are large-scale projects such as custom parts for an engine.
Lost wax casting performs well for smaller cast or molded items. Sand casting allows for large-scale, precision casting or mold work with one or two weeks lead time instead of months of waiting. Model makers have a wide-open field for experimentation.
#4: Framework for Stem Cell Research 
The 3D design revolution isn't just for manufacturing. It's becoming more and more important in the field of medicine, as well. Today, doctors can scan damage inside the body, such as a broken bone, and reproduce it in a model that they can examine without invasive surgery. That's according to Eric Miller, co-owner and principal, Phoenix Analysis and Design Technologies (PADT) writing at LinkedIn.
Miller explains that 3D printing has made great inroads in medicine, including stem cell research. He explains, "One barrier in this research has been that you need a skeleton or cartilage, what they call scaffolding, to grow the new tissue on." Using 3D printing, the framework can be designed using a computer and printed in the lab.
Three-dimensional printing is art and science in one. It brings imagination to life. In the case of medical advances, that's almost precisely true.
Miller likens it to the revolution of printed materials. There was a time when reproduction of books and other pages required the time and labor of a skilled scribe. Then the printing press was invented, and reproduction was never again the same.
Engineers routinely make small and not-so-small advances that alter the fabric of everyday life, and it all revolves around a solid education. When it's time to renew your continuing education credits, turn to a provider that you can trust. Check out our PE approved courses today.