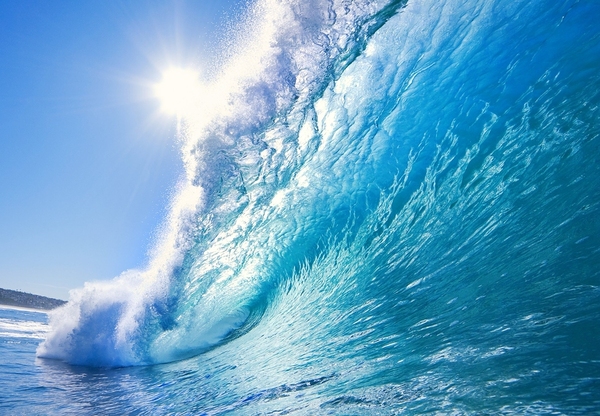 From a humble garage has come some pretty amazing stuff. Sleek, gorgeous Apple computers got their start in a garage. So did Amazon.com, Google and even the Wonderful World of Disney. And now, the winners of the U.S. Department of Education Wave Energy Prize winners have joined the clan.
Portland, Oregon's Alex Hagmüller and Max Ginsburg, together known as the AquaHarmonics engineers, took home the grand prize in this year's DOE engineering awards competition. They beat out 91 other teams for the $1.5 million award.
What will they do with it? Reinvest in the wave energy harvesting technology that landed them in the top slot.
What Technology Won the Award?
In a recent interview with engineering.com, AquaHarmonics' Alex Hagmüller explained that the company's Wave Energy Converter is similar to a buoy. Inside, there's a "glorified winch," motor, shaft and a line that connects to the bottom of the sea.
When a wave comes through, the buoy goes up and that's where they get the power. When the wave goes down, the buoy retracts the line.
"The small scale prototype maximum peak output is around 800 watts, though this is in a storm condition, and this is instantaneous not average output," explained Hagmüller.
The winning device was 1/20th scale. He says the next project is a 1/4 scale model. A full-size buoy would be "around 50-foot diameter."
How DOE Prizes are Awarded
The DOE competition is a "public challenge," says the DOE, that's aimed at improving diversity in Wave Energy Converter (WEC) technology development. They hope to improve technology and lower the cost of harvesting wave energy, "making it more competitive" with what's available today.
Winners receive a cash prize, plus access to tank testing and device evaluation at the U.S. Navy's Maneuvering and Seakeeping Basin in Maryland.
The reason for such an impressive cash award is simple: while design is possible for small startups, testing and evaluation is costly. Industry advancement depends on it.
If you're not easily seasick, watch AquaHarmonics testing in action:
What Makes AquaHarmonics' Wave Energy Converter Better?
According to Hagmüller, the Wave Energy Converter is simpler and more efficient than current technology, and it's more robust. He explains that "there are very few moving parts" and "active control" lets the buoy take the best active advantage of power extraction. This differs from a device that "passively dampens the waves," he says.
According to a 2014 International Renewable Energy Agency (IRENA) report, the majority of a wave's energy is closer to the surface. Heave, surge and sway wave motions are converted into energy using point absorbers, terminators or attenuators.
Point absorbers convert heave energy. According to the AquaHarmonics team bio at the DOE, that's the technology AquaHarmonics capitalizes on.
The U.S. Department of Energy hosts this competition in an effort to find the game changers and give them a leg up. Wave energy is renewable, clean and in abundant supply. But the cost involved with development and testing can be prohibitive for a little garage-based startup like AquaHarmonics.
Now, they have the means to go forth and be awesome.
If you want to take your engineering career to new heights or into ocean depths, continuing education is part of the plan. PDH Academy's PE approved courses can help get you there.