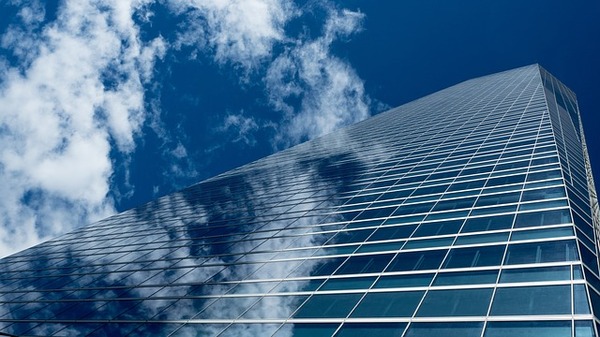 Unlike the predator and prey relationship in the wild, birds in the city aren't just killed by a stronger, healthier specimen. Walls of virtually invisible glass wipe out millions upon millions of birds every year, and they don't select the strongest to survive. Somewhat ironically, the green building movement is partly to blame.
The same glass that's promoted for energy conservation is a silent killer for birds. But a different design approach could retain the benefits of glass without putting wild bird populations at an unnecessary risk.
Why is Glass So Dangerous for Wild Birds?
From the human perspective, glass plays an important role in energy conservation and green building design. It's also reflective, and building structures are clearly visible. But from a bird's eye view, glass creates invisible walls. Exterior lighting attracts them, and interior lighting worsens the effect. Birds easily mistake glass for clear sky, which causes an enormous number of them to impact buildings at full speed.
The loss of so many birds in the city isn't the same as losing them to prey in the wild. The American Bird Conservancy summarized the effect in their report, Bird Friendly Building Design.
"Because glass is equally dangerous for strong, healthy, breeding adults, it can have a particularly serious impact on populations."
Fortunately, bird-friendly design is within reach. It's possible to retain the architectural beauty and energy-saving benefits of glass without disproportionately endangering millions of city-dwelling birds.
How Does Bird-Friendly Building Design Help Mitigate the Problem?
Improved building materials technology has led to more buildings with glass curtain walls. Glass can now reflect UV rays away from the building and help retain the heated air indoors. It can also include insulating chambers that boost energy efficiency even more.
That's great for energy conservation, but it's not great for birds that can't see the buildings. Unlike the sun-blocking, mirror-like glass of decades ago, modern glass uses nearly invisible micro reflective particles.
Using what the America Bird Conservancy calls "bird-smart standards," architects can help control and minimize the risk of bird collisions:
90 percent of the façade up to 40 feet should deter 70 percent of collisions
60 percent of the façade at 40 feet and above should deter 70 percent of collisions
Building design should eliminate areas that can trap birds
Exterior lighting should not attract birds to the building, and interior lighting should be controlled at night
Landscaping shouldn't attract birds to the building
How Can Continuing Education in Bird-Friendly Design Help?
Architects have the rare opportunity to create beautiful buildings and help save bird populations at the same time. AIA-approved continuing education in bird-friendly building design gives students the tools and education needed to reduce the number of birds killed by the built environment while retaining the energy-efficient benefits of glass.
Here's a sample of what PDH Academy students learn:
One-quarter of bird species are currently on the U.S. "Watch List." This list is designed to monitor bird species that need conservation attention.
Green Building Council's LEED Resource Guide from 2009 and up explains that certain LEED credits can be used toward bird impact mitigation.
Poor interior and exterior lighting negatively affects birds and energy conservation goals.
Design can include glass as well as bird-friendly elements that help reduce the likelihood of collision.
Special façade design, shades, netting and other design elements, including patterned glass, help birds see glass structures to avoid them as well as avoid being trapped. Better lighting design helps cut back on what the American Bird Conservancy calls the "beacon effect" of lights.
PDH Academy offers Bird-Friendly Building Design as a 3.0 LU course. Once complete, we report earned credits to the AIA on the student's behalf. Take the course online, or opt for correspondence-style study.
However you approach it, these are valuable skills that every architect needs. And while you're at it, check out the rest of our courses for architects.