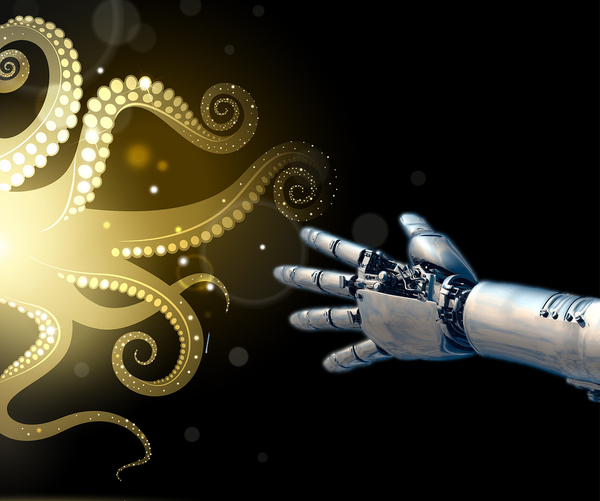 What's the cutest, squiggliest robot in the world? It's the Octobot, and it's charting new territory for soft, autonomous robotics. This 3D printed machine merges robotics with a familiar soft robotics theme, the octopus.
It looks as simple as a gummy candy. But researchers at Harvard John A. Paulson School of Engineering and Applied Sciences (SEAS) tell engineering.com that it demonstrates their "integrated design and additive fabrication strategy for embedding autonomous functionality."
How Octobot Works
Before the entirely soft Octobot, research with soft robotics was restricted to a tethered model. Total flexibility was still a dream because the batteries and circuitry were rigid. And the soft robots that came before were either connected to the rigid system or had the battery and circuit built in, which inherently negated the totally soft robot goal.
The researchers developed Octobot as a pneumatic device that's powered by a chemical reaction. The Harvard Gazette says that it doesn't have any electronics. Hydrogen peroxide inside the robot is transformed into a larger amount of gas. A microfluidic logic circuit controls the hydrogen peroxide reaction. The gas then flows out into Octobot's arms, which causes them to inflate. Researchers say that it's quite strong for its diminutive size.
The team's "hybrid assembly approach" enabled them to rapidly 3D print all of Octobot's components. That includes its fuel storage, power and actuation. The robot's brain communicates with all of its limbs by way of 3D printed channels, says Nature. The 50 percent hydrogen peroxide solution is exposed to platinum, which causes it to separate into water and gas. The burst, says Nature, inflates one arm and then escapes through a vent.
Watch Octobot in action:
What it Means for Soft Robotics
Octobot is "simple to fabricate, by combining three methods – soft lithography, molding and 3D printing," the team explains. Because it's so simple and easy to create, Octobot, which can run for 8 minutes on 1 milliliter of fuel, makes larger and more complex soft robotics designs possible.
What's next? The Harvard team says they want to design an Octobot that can crawl across a surface, swim in water and interact with the environment that's around it. The current design doesn't behave like an octopus and it wasn't created to perform a task.
"The research is proof of a concept," says team member, Ryan Truby. They hope that Octobot will serve to inspire more research in soft robotics by materials scientists, roboticists, and advanced manufacturing researchers.
Where 3D printing and robots meet, that's where you'll find the Octobot. This soft, small machine might not accomplish much, but it's still a big step forward in soft robotics. It's autonomous, and it's cute as a button. Researchers now hope to supercharge the microfluidic circuits and take the research to the next level.
There appears to be no limit to what motivated engineers can create. And all of that imagination is powered by education. That's why PDH Academy offers continuing education courses for engineers in a convenient online format. When your next credit hours are due, check out our PE approved courses.