Gone are the days of the boring, cookie-cutter prefab home. Prefab has now moved into Passive House Construction, which is emerging in North America after finding great success in Europe.
There was certainly a time when pre-fab meant anything besides exceptional design. But this new wave of prefabricated construction homes making their way from Europe to North America, and they have the attention of sustainable construction enthusiasts.
Passive House Institute (US) Standards Drive the Designs
The new prefabricated homes set to pop up in the U.S. and Canada are a combined effort of Ecocor, a Maine-based high-performance building manufacturer; Pennsylvania-Based architecture firm, Richard Pedranti Architect (RPA) and Passive House Institute (PHI) and Passive House Institute US (PHIUS). Architect magazine explains that the homes "will use the only PHI-certified wall assembly in North America.
Eleven floor plans will be made available by Ecocor and RPA, and they're designed to accommodate a wide range of client needs. On the smaller end, there's a 323-square-foot cabin. And on the higher end, they play to offer a 2,685-square-foot single-family home, says Architect.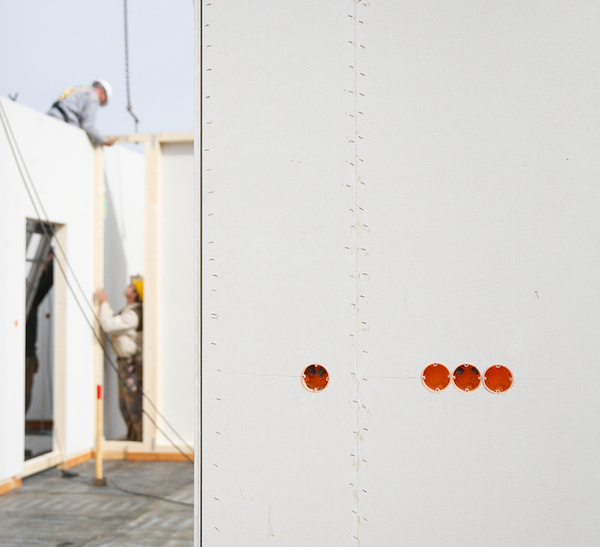 Each panel is created in an environment that enables the manufacturer to tighten up quality control.
Passive House Design Means Greater Efficiency
The passive house design refers to a standard of energy efficiency that lowers the building's carbon footprint. The goal is a space that requires as little energy for air conditioning and heating as possible.
PHIUS was created to help design for the wide range of climates throughout North America. "The homes' wall design and insulation will be the same in all climate zones," says architect. "The slab and roof insulation levels will be climate-specific." RPA will also help clients who need to customize any of the existing plans to better suit their needs. Both interior and exterior finish and fitting modifications will be available.
Prefabricated Homes Mean Better Quality Control
Unlike some prefab houses of past decades, PHIUS-standard homes look at the process as an opportunity to improve. "The tremendous advantage of pre-fab is that the hard parts of building a high-quality building are taken out of the field," Pedranti tells Architect. He calls it a "home run" to have the ability to build and deliver a high-quality, PHIUS-standard house off-site in a controlled environment.
Ecocor creates the panelized walls, floors and "other elements of its patent-pending building assembly" using semi-automated equipment, Architect explains. BIM software sends the building's instructions to Ecocor machines, which then create the airtight panels. They're assembled and then shipped to the building site.
Pedranti isn't new to the passive house industry in North America. A certified Passive House consultant, He has designed and built energy-efficient homes around the Mid-Atlantic region since 2012. The firm has its sights set beyond single-family houses into multifamily buildings in the future.
Architects are helping shape a world that's cleaner and less dependent on fossil fuels without sacrificing comfort or aesthetics. And to keep them at the top of their game, PDH Academy offers online continuing education courses that take the hassle out of professional development hours. Check out our Courses for architects when your next credit hours are due.