The American Institute of Architects and the American Library Association recently announced its 2016 Library Building Awards winners. Each of the seven projects was recognized for its "excellence in library architecture," says Architect Magazine, and "reflect the changing role of libraries within communities that have grown to expect technologically advanced spaces in lieu of traditional book stacks."
The 2016 award jury was led by Cannon Design vice president, Lynn S. Grossman, AIA. Other members included OPN Architects principal, Bradd Brown, AIA; Kentucky-based library consultation, Kathleen Imhoff; Ryan E. Kanteres, AIA, of Scott Simons Architects; University of California, Los Angeles, deputy librarian, Susan Parker; and Darro Willey, who is a library facilities consultant.
Here are three of this year's award winners, and what makes each one a standout for its community:
Billings Public Library, Billings Montana: Will Bruder+Partners and O2 Architects
Notable features: The jury recognized the Billings Public Library as a "beautiful, functional box" that combines visual interest with its primary function. Materials used and the interior and detailing "have a strong connection to the local vernacular." This library incorporated reclaimed materials "thoughtfully and smoothly." Billings citizens expected a building that was as beautiful as it was functional. What they got from this team of architects was a new local landmark.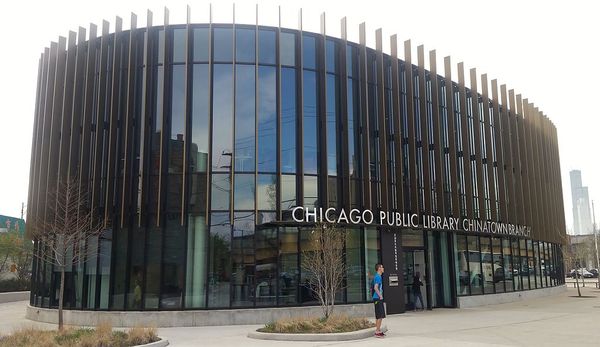 Chicago Public Library, Chinatown Branch, Chicago: Skidmore, Owings & Merrill with Wight & Company
Notable features: The new Chicago Public Library was recognized for its "direct response to the site influences." This 16,000 sq. ft. library "creates a new civic, educational, and social hub for Chinatown, providing a much-needed public branch library geared toward inclusive community activities and driven by technology-based learning," says Architect Magazine. Its two-story design was created for both present use and future expansion. Each of the spaces within the library connects with a central atrium, which was deliberately incorporated as a nod to the traditional Chinese courtyard.
Hennepin County Walker Library, Minneapolis: VJAA
Notable features: Hennepin Country Walker Library "has a great civic presence that enhances the uptown community rather than overpowering its neighbors," according to AIA. The library interior is clean with a flexible design that has a "clear delineation of the built spaces and the open spaces that are again reflected on the exterior." This library replaces the existing one, built in the 1970s, says Jennifer Yoos, FAIA at Architect Magazine. It had no community presence, she explained, so "people didn't know it was there." The new, eye-catching design has stainless steel roof tile used on the façade, plus a butt-glazed curtainwall for ample natural light.
The American Institute of Architects and the American Library Association come together biennially to review library design and acknowledge excellence in design and planning. The American Library Association also co-sponsors the biennial ALA/IIDA Library Interior Design Awards along with the International Interior Design Association (IIDA).
Architects are uniquely positioned to make important changes for individuals, families and, in the case of forward-thinking libraries, whole communities. To stay on top of what's trending in architecture, you need professional development hours. PDH Academy can help. When your next credit hours are due, check out our courses for architects.
Image credit:
Chicago Public Library, By Steven Kevil, via Wikimedia Commons.